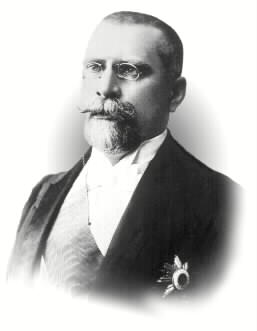 1859 - 1937
Born: Kalofer

1875 – 1882 - studied in Kalofer and graduated from the Law School of the Novorussiysk University in Odessa.
1883 - appointed assistant prosecutor and chairman of the Plovdiv Deparliamentary Court.
Supporter of the East Roumelian Liberal Party.
1885 – 1888 - elected MP and Speaker of the Third Grand National Assembly and of the Fifth Ordinary National Assembly.
Deputy Speaker of the Sixth National Assembly.
1886 - Minister of Justice in Radoslavov's Cabinet.
1888 - 1891- Minister of Justice in Stambolov's Cabinet.
1894 - Minister of Trade and Agriculture in Stoilov's Cabinet.
1899 – 1900 - Minister of the Public Buildings, Roads and Communications in Ivanchov's Cabinet.
1913 – 1918 - Minister of Finance in Dr. Radoslavov's cabinet.
1923 - sentenced to life imprisonment and deprived of civil and political rights under the Law for Trying the Perpetrators for the National Catastrophes.
Leader of the Young Liberal Party.
1924 - granted amnesty by the Concord's government.