Date of birth: 13 July 1970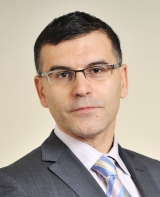 Marital status: Married, two children
Educational background:
Secondary education:          
Language High School, Lovech
Higher education:                            
Master's degree and PhD in International Commercial and Financial Relations, University of Michigan
Professional background:
July 2009 - March 2013 - Minister of Finance of Republic of Bulgaria.
Mr. Djankov was a chief economist on finance and private sector affairs at the World Bank from 1995 until his election as Bulgarian Minister of Finance. He worked on the countries mostly threatened by the crisis worldwide. He participated in various programs of the Bank on privatization, corporate governance, regional reforms in North Africa, East Asia and other regions around the world. He established a think-tank at Harvard University.
Publication:
Mr. Djankov was a principal author of the annual review of the World Bank - World Development Report 2002. He is an author of more than 70 specialized articles in the most prestigious economic journals in the world - Quarterly Journal of Economics, American Economic Review, Journal of Finance, Journal of Financial Economics, Journal of Public Economics. He is creator of the annual Doing Business report, the top-selling /in more than 100 000 copies/ publication of the World Bank Group.