FIRST DAY OF THE VISIT OF MINISTER VELCHEV TO USA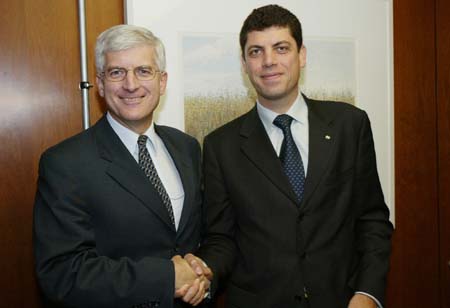 16.10.2001 г.
IMF will make a final statement on the amount of budgetary deficit for the current year and the following one. The official note is expected to be send to Bulgaria before the Draft Law on state budget 2004 of the Republic of Bulgaria is being submitted to the National Assembly. A week ago Bulgaria has sent a letter to IMF informing them about its arguments on the budgetary deficit issues. The arguments have been perceived by IMF to a great extend. This became clear after the meeting between the Minister of Finance Milen Veltchev and his Deputy Krassimir Katev with Jerald Shiff, Head of IMF mission in Bulgaria and the director of European I department, Michael Deppler, in the IMF Central Office.
However, IMF is still concerned about the high deficit of the current account. The two sides continue searching for a mechanism, which will not make necessary the reduction of costs in response to the increasing deficit and to have at the same time good budgetary stabilizers which, in case of negative circumstances will not lead to collapse of the macroeconomic stability.
In respect of the ideas for investments in large infrastructure projects, at this stage IMF is willing to accept them only in case that the costs would be reflected in the budget. One of the discussed options envisages the over performance of revenues for the current year to be reflected in the expenditure part of Budget 2003 as subsidies to the state owned company "Avtomagistrali". Thus, after performing the relevant tender procedures the resources could be invested during the following year. No concrete amount for this investment has been discussed yet.
Earlier this day Minister Veltchev and Deputy Minister Katev had a meeting with the Under Secretary for Economic, Business and Agricultural Affairs, Mr. Alan Larson. The meeting was a continuation of the discussions with Minister Veltchev in June. A number of bilateral economic issues have been discussed, including the financing of "Fulbright" program. The possibility for settlement of NATO bases in Bulgaria has also been discussed during the meeting, which was attended by the Deputy Minister of Defense Nedjmi Ali.
Detailed information on this issue shall be available after the meeting in Pentagona tomorrow. The State Department confirmed that there will be a review of the US bases in Europe and Bulgaria is one of the potential candidates.
The Minister of Finance Milen Veltchev and his Deputy also had a business breakfast with representatives from the American Entrepreneur Institute. Structural reforms in Bulgaria and how would they reflect our NATO and EU membership were discussed with the members of this powerful non-government organization. The hosts appeared to be very well informed about the situation in Bulgaria and said that our country has definitely achieved progress in its development.