MINISTER OF FINANCE VLADISLAV GORANOV AND THE VICE PRESIDENT OF EIB LÁSZLÓ BARANYAY SIGNED A CONTRACT FOR STRUCTURAL PROGRAMME LOAN TO THE AMOUNT OF EUR 500 BILLION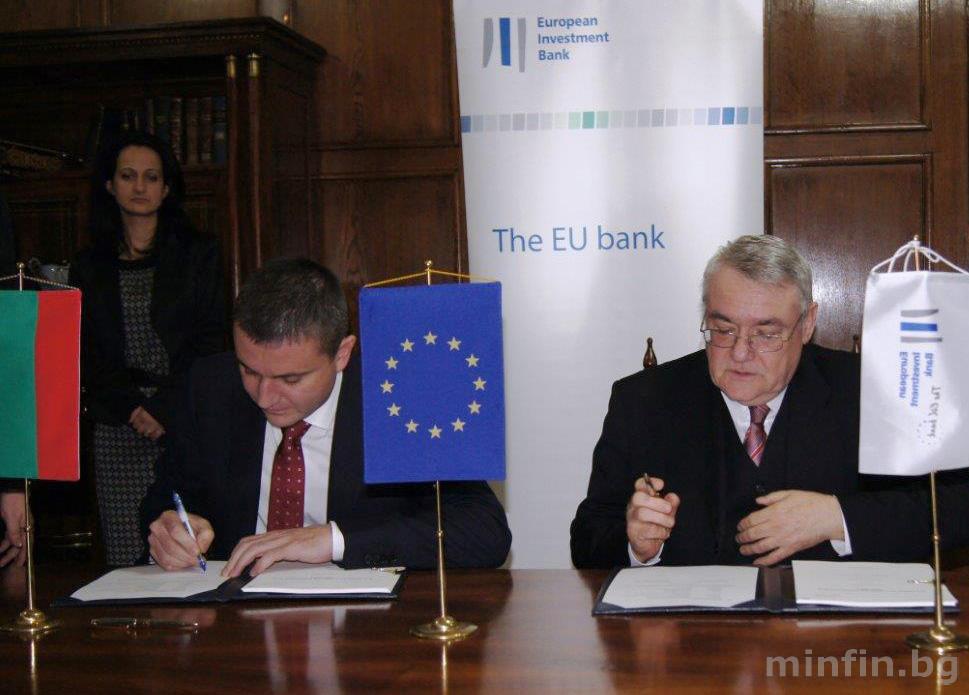 27.11.2014
Minister of Finance Vladislav Goranov and the Vice President of the European Investment Bank (EIB) László Baranyay signed a finance contract "Bulgaria EU Funds Co-financing 2014-2020 (Structural Programme Loan)" to the amount of EUR 500 billion. By signing this contract additional funds are ensured to support the EU Funds absorption by partially covering the Bulgarian co-financing of the implementation of investment schemes under the 2014-2020 programming period operational programmes approved by the European Commission. Thus the implementation of projects is guaranteed in particular in the field of regional development, transport and environment, as well as selected transport schemes approved within the Connecting Europe Facility. At the request of the Bulgarian government and after an analysis and approval by the EIB the finance contract also provides for an opportunity to use the loan for the rest of the operational programmes.
Before the signing ceremony Minister Vladislav Goranov stated that today's contract would be a good basis for cooperation with EIB and expressed his hope that the joint support would continue in the future the same way as before but with an enhanced role of the Bank in the private sector. The Minister of Finance noted that the main challenge facing Bulgaria was related to increasing investments "in order to generate potential for growth next year" and clarified that the most appropriate option was this to happen through the EU Funds management. Minister Goranov noted that the Bulgarian government was also relying on the technical expertise the Bank could offer and in particular regarding the financial engineering instruments that according to him were quite advanced. On her part Deputy Minister of Finance Karina Karaivanova expressed her expectation that Bulgaria would receive the advance payment under the loan before the end of this year.
After signing the contract Vice President of EIB László Baranyay wished the Bulgarian government success in the project implementation and noted that their implementation was in the interest of both the Bulgarian and the European citizens.
This is the second Structural Programme Loan that the EIB is providing to support the Republic of Bulgaria's government in the EU Funds absorption. In 2007 a finance contract "Bulgaria EU Funds Co-financing 2007-2013 (Structural Programme Loan)" was signed to the amount of EUR 700 million. The loan ensured the national co-financing of important infrastructure projects in the field of transport, environment and regional development.