Deputy Prime Minister Assen Vassilev had a meeting with the ambassadors of Finland, Sweden and Denmark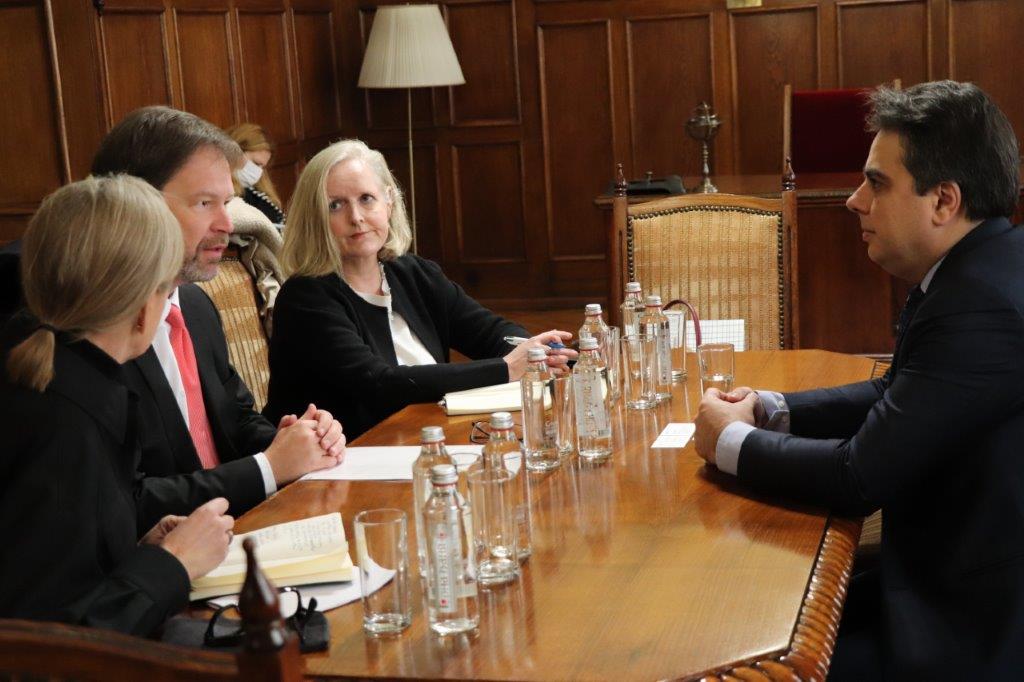 20.01.2022
The national Recovery and Resilience Plan, Bulgaria's preparedness to adopt the euro and the preparation of the country's budget for 2022 – these were the highlights in the meeting of Deputy Prime Minister for EU Funds and Minister of Finance Assen Vassilev and H.E. Kristiina Kuvaja – Ambassador of the Republic of Finland, H.E. Katarina Rangnitt – Ambassador of the Kingdom of Sweden, and H.E. Jes Brogaard Nielsen – Ambassador of the Kingdom of Denmark.
During the meeting, Minister Vassilev said that the Recovery and Resilience Plan was being adjusted, with the changes being mainly in the areas of healthcare, transport and energy. "Bulgaria's energy system must become greener and this will be achieved by means of building capacity using geothermal and other alternative energy sources," the Deputy Prime Minister pointed out. He said that the projects under the Plan needed to be implemented in a transparent way, which would also be ensured by increasing the capacity of the Public Procurement Agency.
As regards the introduction of the euro in our country, Assen Vassilev informed the ambassadors that a plan had been drawn up in 2021, which set out the main activities for the replacement of the national currency, with a broad and accessible information campaign planned to be launched by mid-year.