The World Bank Group Shared Services Centre in Sofia Officially Opened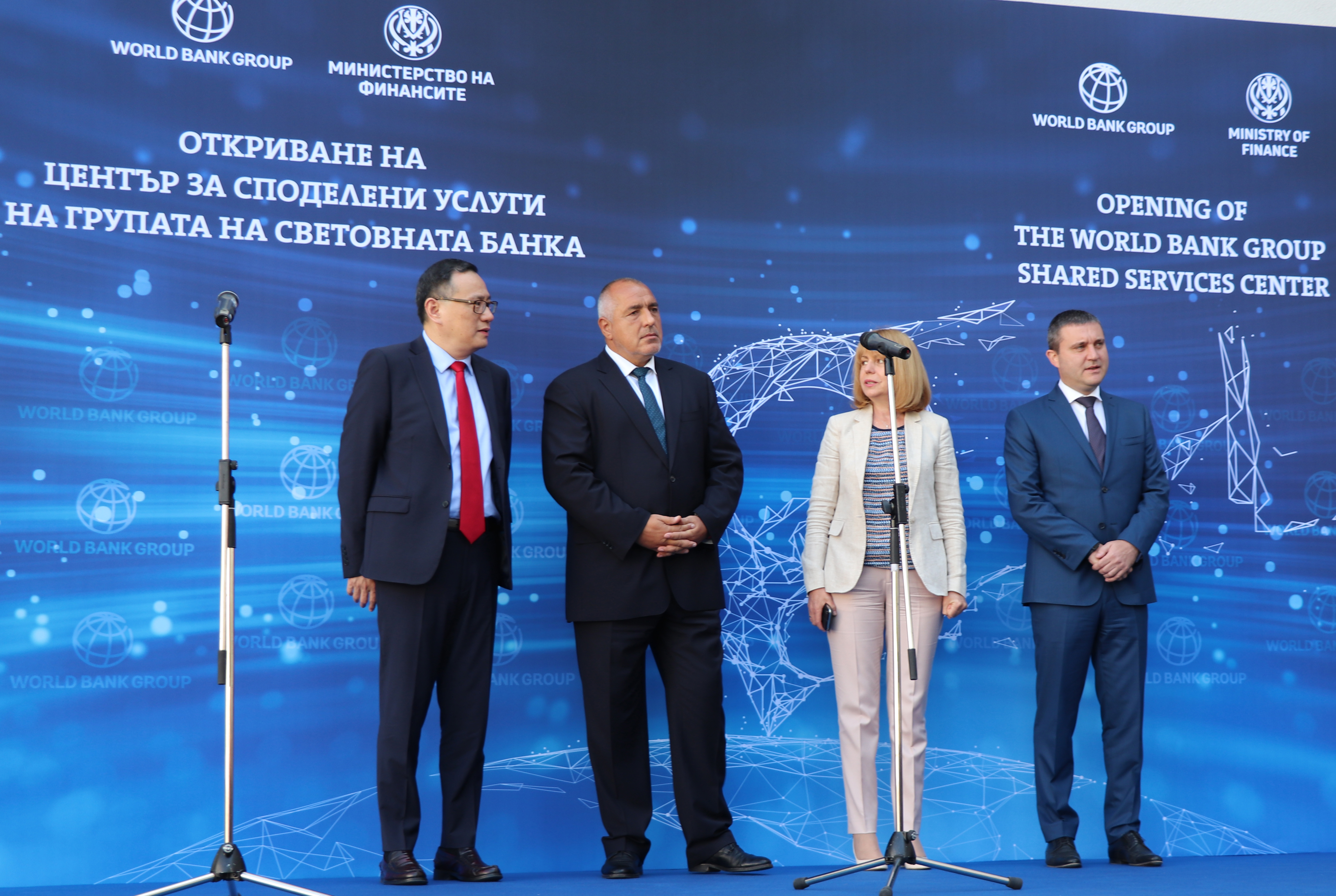 18.07.2019
Prime Minister of the Republic of Bulgaria Boyko Borisov, Minister of Finance Vladislav Goranov, Mayor of Sofia Yordanka Fandakova and World Bank Group Managing Director and Chief Administrative Officer Shaolin Yang opened a Shared Services Centre through which corporate and technological support will be provided to the business operations of the five institutions within the Group around the world.
"We often doubt how successful we can be. Today is one of the examples how knowledgeable and capable we are since such a global institution like the World Bank can find and finds an occasion to acknowledge Bulgaria as the second place after Chennai, India, to open such a centre for shared services", Minister of Finance Vladislav Goranov said in his address.
The Prime Minister also underlined the good conditions in the country and the fact that the IT sector here was developing three times faster compared to the other countries in the European Union. "It is no coincidence that one of the eight supercomputers will be located here and will allow receiving information from around the world 24 hours a day, 7 days a week", Borisov reminded.
"We believe that the new centre from which shared services will be efficiently and effectively provided to our employees from around the world will really support the World Bank Group in delivering on its mission of ending poverty," said Shaolin Yang, World Bank Group Managing Director and Chief Administrative Officer. "We are grateful to the government of the Republic of Bulgaria for its continued partnership and support in establishing the centre", he added.
Mayor of Sofia Yordanka Fandakova thanked for the trust and said that the opening of such centre was a great recognition for the capital city of Bulgaria.
The World Bank is now part of Bulgaria's innovation ecosystem, Todor Mladenov, Executive Director of Sofia Tech Park, added. "The presence of the Bank is recognition of the achievements of the IT-sector and of the talent of Bulgarian specialists".
The new office complements an existing World Bank Group shared services centre in Chennai, India. The Sofia centre will allow the institution to better serve its employees across different time zones and will have a positive impact on the country's economic environment – it will help to ensure jobs for high-tech specialists and to build upon the potential in high value added sectors.
The location of the new centre has been chosen after a lengthy procedure involving many competing countries and based on a wide range of criteria such as stability, quality of the IT-infrastructure and the sector's workforce. The new centre is expected to employ around 300 professionals within a period of five years.