Diana Dragneva-Ivanova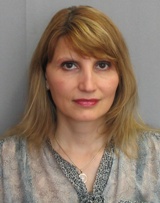 Contact:
102, G. S. Rakovski St
1040 Sofia, Bulgaria
tel: 02/9859 2010
e-mail:
Date of birth: 8 October
Married, two children
Education:
Finished First Language Secondary School, Varna. 1986 - 1991 graduated in Law from Sofia University "St. Kliment Ohridski".
Professional Experience:
1993 - 1998 - jurist with the Ministry of Foreign Affairs
1999 - 2011 - Chief Jurisconsult and State Expert, State Legal Directorate, Ministry of Finance. Her work was in the field of budget legislation, government debt management and trade in government securities. She has specializations in Public Finance, European Law, Legal Aspects of International Financial Institutions, etc.
Languages: English and Russian.