2018-04-25/27 Eurofi High Level Seminar 2018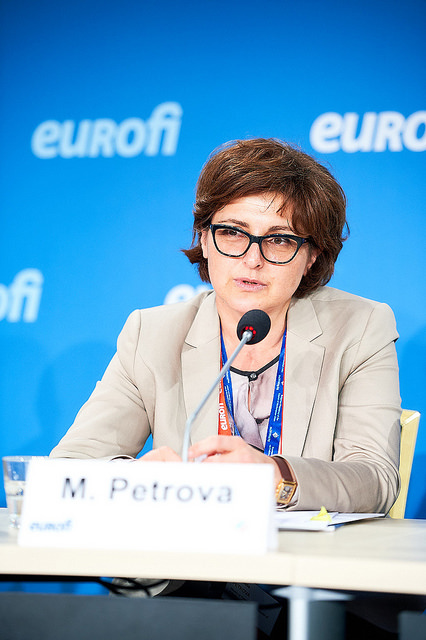 MINISTER GORANOV TAKES PART IN EUROFI
26.04.2018
The Bulgarian Minister of Finance and current chair of the EU's ECOFIN Council, Vladislav Goranov, took part in the Eurofi high-level financial forum, which took place on 26 April 2018 in Sofia.
"The European Union has proved that the challenges in the area of financial services may also be perceived as possibilities", said Minister Goranov at the opening of the event. He underlined that there were now possibilities for enhancing the financial stability, improving the access to financing and consumer protection.
"It is a common responsibility of all EU institutions and Member States to realise those possibilities", he added.
The Deputy Minister of Finance Marinela Petrova also took part in the forum. She led the discussion devoted to the development of the regional financial markets in South-East Europe attended by business representatives and representatives of the institutions of the Western Balkan countries. The panel was in line with one of the key priorities of the Bulgarian Presidency of the Council of the EU, the European integration of the Western Balkans. Deputy Minister Petrova also took part in a panel which discussed measures aimed at the further reduction of fragmentation within the Capital Markets Union, a topic which is planned to be addressed during the informal meeting of EU ministers of economy and finance on 27-28 April.
The Eurofi forum centred around the most topical issues relating to the development of the financial markets, such as the completion of the Economic and Monetary Union, the influence of Brexit on the financial markets, and others. Almost 170 speakers shared their views on these issues with around 800 participants. The discussions were organised in the form of round tables which included high-level representatives from both EU institutions and Member States and from the private sector.
The interview of Minister Vladislav Goranov for "The Eurofi Magazine" can be found here.