Director of the Directorate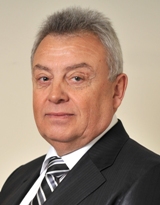 Mr. Dobrin Pindjurov
Contact details:
102 "G. S. Rakovski" Str.
1040 Sofia, Bulgaria
telephone: (+359) 2/9859 2101

e-mail: budget@minfin.bg
Budget Directorate has an important role in the implementation of the Ministry of Finance functions in relation to the national budget policy formulation and coordination. The Directorate defines the guidelines and coordinates the annual budget procedure and the implementation of the reform in budget planning and preparation.
Budget Directorate coordinates the activities related to the drafting of the medium term budget framework, the annual budget law and the decree for its implementation, as well as all other relevant budget documents.
Under the Organic Budget Law the Minister of Finance draws up the final draft of the state budget and submits it to the Council of Ministers together with a reasoned report. Two months before the end of the current year the Government has to submit the Annual State Budget Bill to the National Assembly. The Council of Ministers adopts a decree for the budget implementation at the latest a month after the Annual State Budget Law promulgation.
Budget Directorate has a leading role in the budget methodology development. It coordinates the development of methodology, standards, instructions and guidelines required for the planning, drawing up, implementation and reporting of the program and result oriented budgets of the ministries and state agencies. The Directorate provides methodological support to first level spending units on how to include their policies in their budgets in the process of their budget documents preparation.
The Directorate supports the reforms in public sector financing and the monitoring of the impacts of the policies implemented to streamline public expenditure. To enhance efficiency and results Budget Directorate makes reviews and analyses of key public sectors and policies and makes proposals how public sector resource management should be improved.
The Directorate maintains a database of key fiscal indicators; analyzes the Consolidated Fiscal Program implementation and monitors the trends of the budget policy set.
Of utmost importance for the Directorate's activities is its participation in the process of budget legislation and practices harmonization with European legislation and standards. This it does by means of reviews, analyses and assessments of the legislation and proposals for improvement and enhancement of budget processes and procedures.
To strengthen the capacity of the administration involved in public sector management Budget Directorate develops and leads training by organizing and offering training courses and workshops on public finance issues and topics. The training is organized based on an analysis of the needs and serves as an instrument for reform implementation and enhancement of financial management practices in line with EU requirements in the area of financial and budget issues.