Director of the Directorate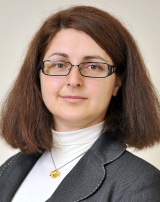 Ms. Marinela Petrova
Contact details:
102 "G. S. Rakovski" Str.
1040 Sofia, Bulgaria
telephone: (+359) 2/9859 2430

e-mail: secretary.evp@minfin.bg  
I. DIRECTORATE'S MAIN TASK
Economic and Financial Policy Directorate ensures analytical support and is responsible for the coordination of policies and the effective representation of the Ministry of Finance and the executive authorities for economic and financial issues within the European Union. It develops and upgrades macroeconomic models for forecast and analysis of alternative scenarios and long term equilibrium analysis.
II. EUROPEAN UNION BUDGET DIVISION
TASK
Responsible for the formation of Bulgaria's position and for the effective Bulgarian participation in the negotiations on the EU Multiannual Financial Framework (MFF) and in the context of the EU annual budget procedure. Organizes the implementation of all commitments of Bulgaria in the area of EU own resources (OR).
III. MACROECONOMIC AND FISCAL MANAGEMENT IN THE EU DIVISION
TASK
Responsible for the implementation of the Stability and Growth Pact and for observance of EU legislation in the field of fiscal management. Coordinates Bulgaria's preparation for euro area accession. Organizes the drafting, coordination and successful presentation of Bulgaria's positions in the Economic and Financial Committee (EFC).
IV. STRATEGIES AND PROGRAMS FOR ECONOMIC GROWTH DIVISION
TASK
Supports the Minister of Finance in his/her capacity of National Coordinator under the Europe 2020 Strategy. Coordinates the implementation of the European Semester, the Europe 2020 Strategy and Regulation (EU) No 1176/2011 of the European Parliament and of the Council of 16 November 2011 on the prevention and correction of macroeconomic imbalances. Organizes the drafting, coordination and successful presentation of Bulgaria's positions within the Economic Policy Committee (EPC).
V. MACROECONOMIC ANALYSES AND FORECASTS DIVISION
TASK
Provides analytical support for the laying down and implementing of policies through development and refinement of models and other analytical tools, making analyses and forecasts of the major economic indicators and simulation of alternative economic policies.
VI. INSTITUTIONAL LEGAL DIVISION
TASK
Organises the development, reconciliation and successful presentation of Bulgarian positions within the Council for Economic and Financial Affairs (ECOFIN).